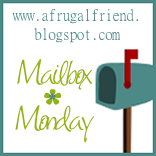 What a great week for mail! Everyday there was something fun and free in the mail.
Magazines:
Woman's Day (I can't remember how I got this for free)
Everyday Food (Free subscription with
My Coke Rewards
)
Samples
Bare Naked Cereal
Friskies Appetizers
Burt's Bee Acne Solution
EOS Organic Lip Balm
Wet Ones (She Speaks Program)
Geo Trax DVD
Coupons
Kroger Magazine
Kroger Flyer with coupon x's 2
P&G Iam's Natural Coupon
For more great mailbox box freebies go to
A Frugal Friend!